Yesterday, my mother and I visited the Florida State Fair.  For a city girl like myself, this was an introduction to the country life, complete with livestock competitions, homemade concoctions, and everything you would ever need to decorate your house à la Little House on the Prairie.
I was excited for this anthropological road trip, and after wading through a maze of vendors in the expo hall, we made it to the USDA animal menagerie.Here, you could meet Twiggs the giraffe, and feed him carrots.  They also had a zebra, goats, llamas, and a few other animals.  Please note the sign saying you should not feed the animals from your mouth.  For the USDA to have even created such a sign means that multiple idiots have tried this on multiple occasions.  Is there hope for humanity?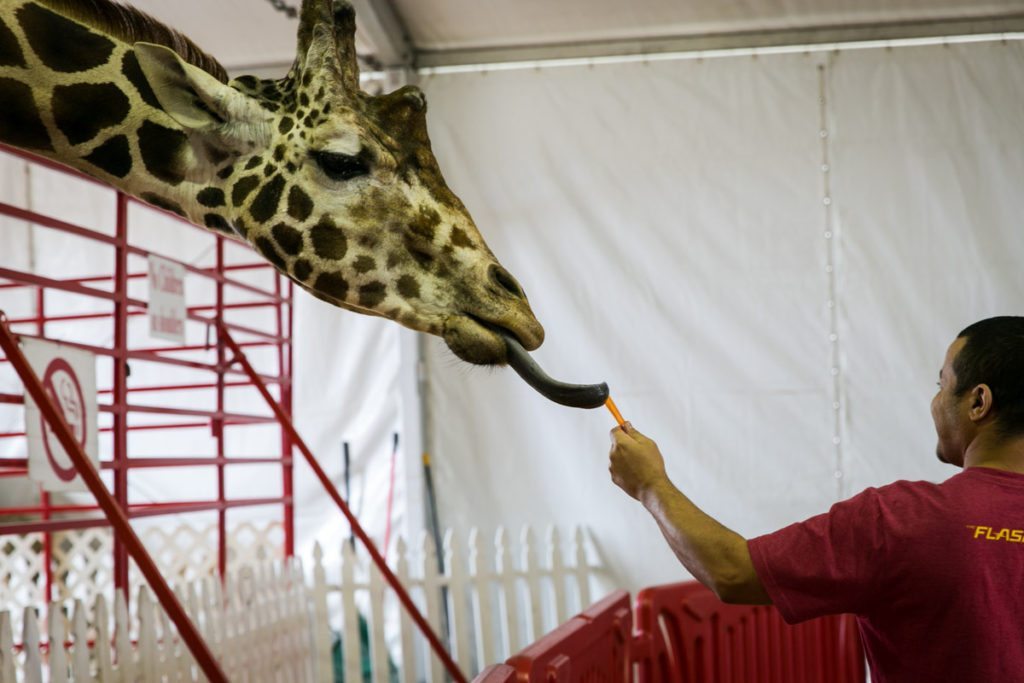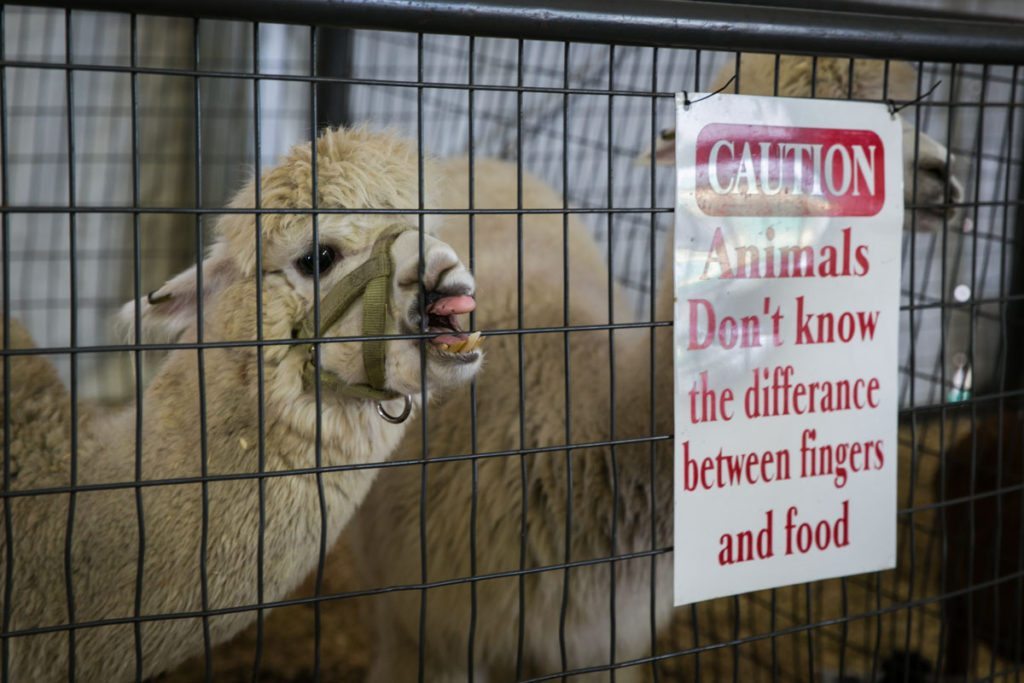 Our next adventure was to watch the classic pig races.  Yes, that's a pig obstacle course you see in front of you.  For the final race, the pig race MC asked for anyone with a pot belly of their own to come up to the gate to cheer on the pigs.  There were multiple candidates to choose from.
We then moved on to the agricultural area.  First, the rabbit and poultry areas.  Who knew there were that many versions of 'bunny'?  And check out the local school children's educational study of the rabbit digestive system.  It was enlightening.  Also, lots of baby chicks that barely missed being squeezed to death by human children.
The cow section was very interesting, as there was a cattle competition going on at the time we were there.  The gentleman in Wranglers who was judging the competition was talking about the winning cow like it was a fine wine.  He was a bovine connoisseur, if you will.
Next up was the 'mooternity' ward with baby animals on display.  Again, human children and baby animals don't always mix.
The competition area, showing everything from prize-winning aquariums and needlepoint to photography and drawing, was fascinating.  There were some lovely works on display that showed the maker took a lot of time at her/his craft.  Then there were items that pointed to the fact that this might have been a slow year for competition.
On one end of the competition hall was a little museum dedicated to history of carnivals.  It was delightfully creepy, and you can be sure that I will be going to nearby Gibsonton next week to visit the larger carnival museum they have there.
While the skies had been overcast all morning, the weather report said that there wasn't going to be any rain until around 4:00 p.m.  The weather man was wrong.  The rain started around 12:00 and grew to a raging downpour that eventually drove mom and me home early.  Before we left, we visited the soggy Cracker Country area of the fair, where they have a huge model train display.
It's not as if I was ever going to ride any of the midway rides (rollercoasters and the like make me nauseous just looking at them), but here are a few photos of the abysmal conditions that afternoon.  The only bright spot was the deep fried oreos.  Yes, they are as good as they sound.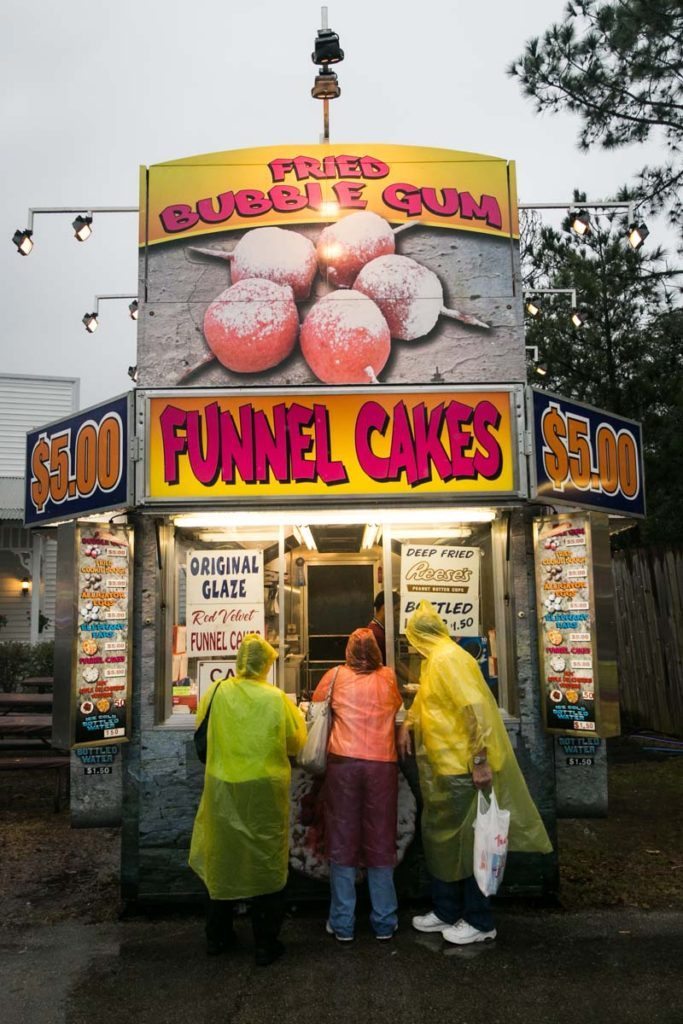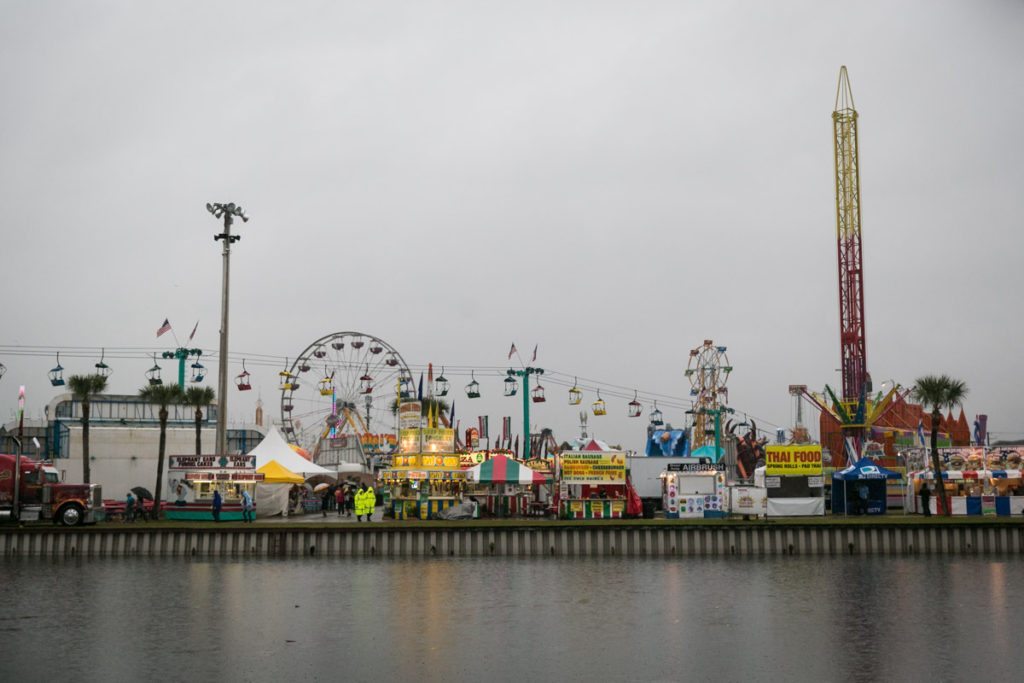 If you would like to view more recent photos, please visit my website portfolio.